█ Maximum voltage: 3500V,can be expanded to 10kV.
█ Large current up to 6000A(multiple modules in parallel).
█ nA leakage current, mu Ω conducting resistance.
█ Precision measurement 0.1%.
█ Modular configuration for adding or upgrading measuring units.
█ Test is of high efficiency, automatic switching and one-key test.
█ Graphical PC operation interface, the user can carry out the test after simple configuration.
█ Wide temperature range, support normal temperature and high temperature test,temperature control module is optional,
and it can also be controlled in conjunction with a third-party thermostat.
█ Test data can be exported. Support automatic export of test result data, support EXCEL format.
█ Compatible with various packages, tailormade fixture according to test requirements.
Provide a complete set of test fixture solution
For silicon-based power semiconductors of different packaging types on the market, IGBT, SiC, MOS, GaN and other products, PRECISE provides a complete set of test fixture solutions, which can be used for testing T0 single-tube, half-bridge modules and other products.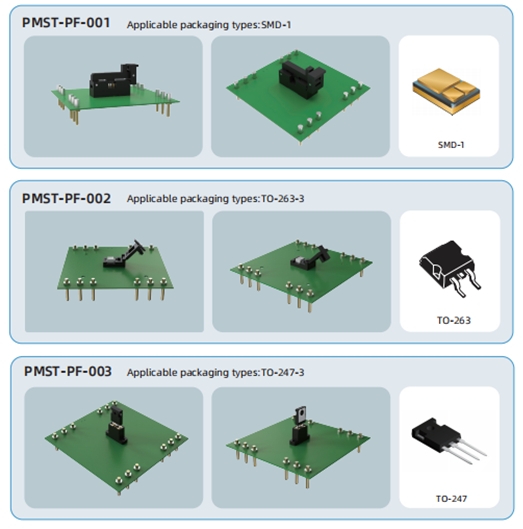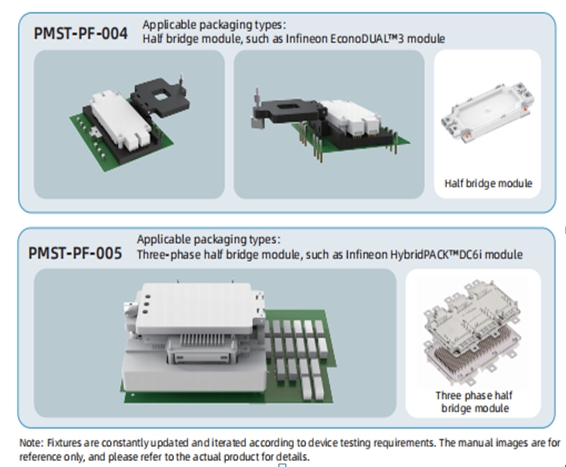 High test efficiency and wide temperature range
PRECISE PMST power device static parameter test system mainly includes test host, test line, test fixture, computer, host computer software, and related communication and test accessories. The system has built-in various specifications of voltage, current and capacitance measurement unit modules. Combined with the dedicated upper computer test software, different parameters such as voltage and current can be set according to the needs of the test project to meet different test requirements. Test data can be saved and exported, and I-V and C-V characteristic curves can be generated. In addition, the test host can be used in conjunction with the probe station to realize wafer-level chip testing; it can also be used in conjunction with high and low temperature boxes, temperature control modules, etc. to meet the needs of high and low temperature testing.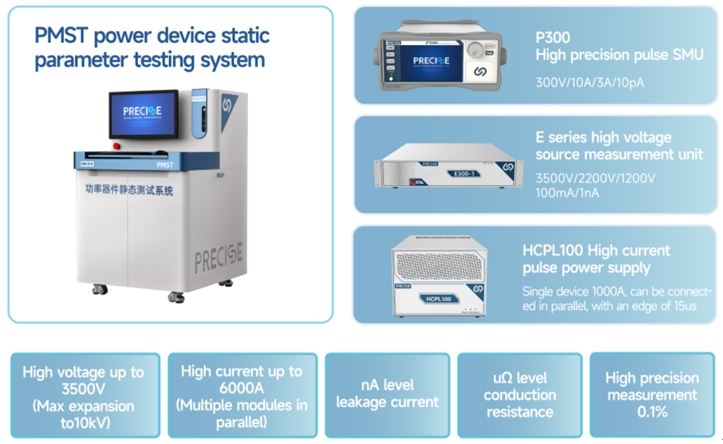 High precision, High current
The voltage and current measurement units used inside the test host adopt multi-range design, and the test accuracy is 0.1%. Among them, the gate-emitter supports a maximum of 30V@10A pulse current output and testing, and can test leakage currents as low as pA; the collector-emitter supports a maximum of 6000A high-speed pulse current, with a typical rise time of 15μs, and has the function of high-speed synchronous sampling of voltage; the highest support3500V voltage output, and comes with leakage current measurement function. Capacitance characteristic test, including input capacitance, output capacitance, and reverse transmission capacitance test, the frequency supports up to 1MHz.

What can the semiconductor test system test:
1) Diode, LED: reverse breakdown voltage VR, reverse leakage current IR, forward voltage VF, forward current IF, capacitance Cd, I-V curve, C-V curve

2) Transistor: V(BR)CEO, V(BR)CBO, V(BR)EBO, ICBO, VCESAT, VBESAT, IC, IB, Ceb, gain hFE, input curve, output curve, C-V curve
3) Silicon-based, silicon carbide MOSFET: V(BR)DSS, VGS(th), IDSS, IGSS, RDS(on), VSD, ISD, gate internal resistance RG, input capacitance Ciss, output capacitance Coss, reverse transmission Capacitance Crss, transconductance gfs, output curve, transfer curve, C-V curve
4) IGBT: VCES, V(BR)CES, VCEsat, IC, ICES, VGES, VGE(th), IGES, gate internal resistance RG, input capacitance Ciss, output capacitance Coss, reverse transfer capacitance Crss, transconductance gfs , output curve, transfer curve, C-V curve
5) GaN HEMT: V(BR)DSS, VGS(th), IDSS, IGSS, RDS(on), VSD, ISD, gate internal resistance RG, input capacitance Ciss, output capacitance Coss, reverse transfer capacitance Crss, trans Guide gfs, output curve, transfer curve, C-V curve
6) Capacitance: insulation resistance I.R, capacitance value C
7) Optocoupler (three ports): IF, VF, V (BR) CEO, VCE (sat), ICEO, I.R, input capacitance, output capacitance, isolation capacitance CIO between input and output, output current transfer ratio CTR, input curve, Output curve
Tested curves by PRECISE static semiconductor testing system