● 5 inch Touch Screen graphical operation

● Wide range Max 300V,Min 10pA,maximum test power is 30W
● LIV, PIV software quickly testing
● High-accuracy at 0.1% Various scanning modes
● Four-quadrant operation 100nA~1A, 300mV~300V
● USB storage and export
● Multiple interfaces RS-232/GPIB/LAN
● Can be used to test the electrical performance indicators of semiconductors: I, V, R
Why Choose S-Series Source Measure Instruments?
Powerful performance-Synchronous sourcing and measuring - as a voltage source and or current source,and simultaneously measure current and or voltage,support four-quadrant work.The voltage or current output can be limited to prevent device damage.Covering the current range of 3 pA - 3 A and the voltage range of 100μV-300V,the full-scale measurement accuracy is 0.03%.
Flexible and diverse - support two-wire and four-wire measurement,more accurate low internal resistance measurement;integrated linear ladder scan, logarithmic ladder scan,custom scan and other modes;professional I-V characteristics and semiconductor parameter testing software.
Easy to learn and use – simplifies measurement preparation for various applications such as I-V and I-t/V-t curves.The capacitive touch screen graphical user interface (GUI) provides two display modes of graphical and digital measurement results,which are easy to use and view.

All-in-one high-precision SMU, extremely simplified measurement
Traditional semiconductor I-V characteristic measurement solutions are usually complex and costly, requiring a variety of instruments to complete the test, programming,synchronization,connection,measurement and analysis of different instruments,which is complex,time-consuming,and takes up a lot of test bench space
The S series digital source measure unit can be used as an independent constant voltage source or constant current source,voltmeter, ammeter and ohmmeter,and can also be used as a precision electronic load.Its high-performance architecture allows it to be used as a waveform generator,and automatic current-voltage (I–V) Characterization system.Greatly shorten the development,establishment and maintenance time of the test system,save valuable "space" of the test rack or test bench at the same time,and reduce the overall cost of purchasing the test system.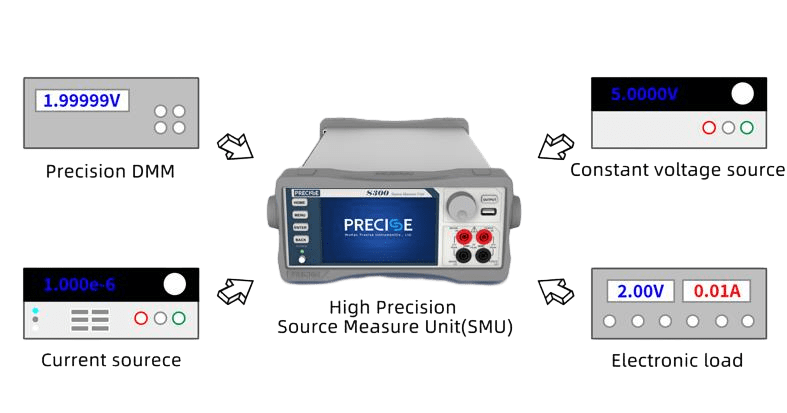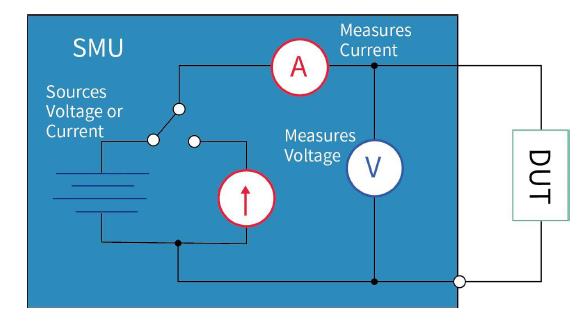 User-friendly multi-touch operation and connection
The S-Series Source measure Unit (SMU) features an easy-to-use front panel design and intuitive operability based on PRECISE's 15 years of user experience. The intuitive user interface is recognized and favored by users in fields such as R&D and manufacturing test.
Large LCD touch screen
The high-resolution, responsive 5-inch multi-touch capacitive touchscreen makes device operation simple and intuitive. Users can change measurement conditions, perform analysis, and change curve views just like operating a tablet device. The touch screen system enables everyone to become an "expert user" from the first touch, helping to reduce learning time and costs, whether new to the instrument user or the most experienced user.
USB port
The S-Series Source measure Units (SMUs) have a USB port, and the file function allows users to save data and screenshots to internal memory or USB storage for use in creating test reports. Updating the device software can also be done through the USB port.
Standard SCPI instruction set
PRECISE provides users with standard SCPI instruction sets and PC control software free of charge, which can meet the testing requirements of various application scenarios. S series source measure unit is equipped with LAN, RS232, GPIB communication interface, which is convenient for system integration.