█ Up to 300V and min to 1pA, max output power in DC mode is 30W, and Max output power in pulse mode is 300W
█ Max pulse output current up to 10A
█ Min pulse width 200μS
█ Supports front and rear panels, 2/4 wires, and UARD protection
█ Standard SCPI instruction sets for customer secondary development
█ Easy to build semiconductor electrical performance testing scenarios
Integrate sources and meters, greatly simplifying IV measurement
The use of traditional instruments such as voltage/current sources, arbitrary waveform generators (AWGs), switches, and voltage/current meters for characterizing semiconductor electrical characteristics is complex and expensive.Multiple instruments are required to cooperate to complete the testing,Programming, synchronizing, connecting, measuring, and analyzing different instruments is both complex and time-consuming, and requires a large amount of test benchs.
The Precise P series pulse source measure unit integrates many different sources and measurement capabilities into a compact instrument cabinet, which can serve as an independent constant voltage or constant current source, voltmeter, ammeter, and ohmmeter. It can also be used as a precision electronic load, pulse generator, and AWGs.
The multifunctional and integrated capabilities of the Precise P series SMU allow it to perform various measurements from DC to low-frequency AC without the need to change connections or use additional equipment.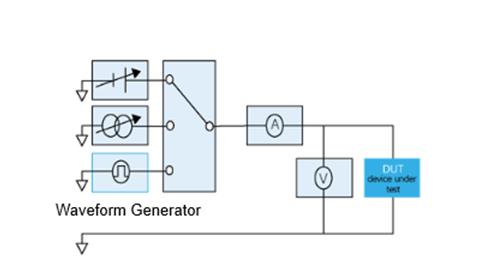 Four quadrants work, can be used as a source or load
The power quadrant refers to a quadrant diagram formed by taking the output voltage of the power supply as the X-axis and the output current as the Y-axis. The first and third quadrants, where the voltage and current are in the same direction and the source measure unit supplies power to other devices, are called source mode; The second and fourth quadrants refer to the reversal of voltage and current, and other devices discharge the source measure unit. The source measure unit passively absorbs the incoming current and can provide a return path for the current, which is called the sink mode.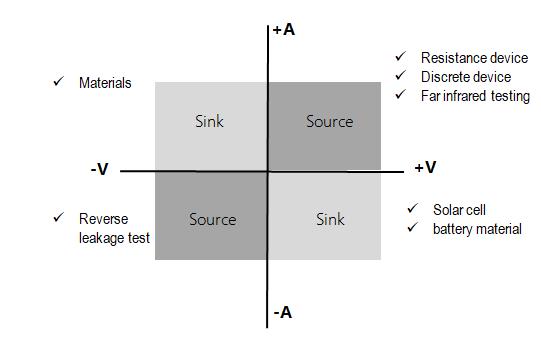 Wide dynamic range, fast and accurate measurement results
The max voltage and max current of the P series pulse source measure unit are ±300V, ±1A DC, ±10A pulse, and the resolution is lower to 1pA.
The P-series pulse smu can store up to 100000 data points, supporting batch reading of cache data while measuring, reducing bus communication time. When SMU is integrated into semiconductor testing systems, these characteristics will greatly improve testing efficiency for users.

Triple coaxial cable protection circuit
When measuring low-voltage current, suggest to use triple coaxial cable.Triple coaxial cable have an additional shield, while coaxial cables do not have.This ensures lower current leakage, better R-C time constant response, and greater noise resistance.