█ Rising and falling edges at the ms level, reducing the power-on time of the DUT and reducing heat generation
█ Single maximum 3500v voltage output,can be expanded to 10kV
█ Synchronous current or voltage measurement
█ 0.1% test accuracy
█ Support program-controlled constant voltage current measurement and constant current voltage measurement function, which is convenient for scanning test
█ Complete nA level current measurement solution under high voltage.Min measurement current 1nA
Product application and testing advantages
The trend of high voltage in practical applications of IGBT/SiC Power semiconductor devices
Power semiconductor devices, used in fields such as power rectification, inverter, and frequency conversion, are equivalent to the "CPU" in the field of power electronics. It has the characteristics of high voltage withstand, high current, and low loss. With the upgrading of technology, the on state power consumption, switching time, and switching power consumption are constantly decreasing.The device's withstand voltage value ranges from hundreds Volt to thousands Volt, and the current range includes tens A to thousands A.
They are widely used in industrial control, household appliances, electric vehicles, new energy photovoltaic and other fields. Common power semiconductors include power diodes, power MOS, IGBT, and third-generation semiconductor devices such as SIC MOS and GaN HEMT.
Test requirement
In testing, some parameters require the use of providing voltage measure current(FVMI) methods, such as Ices testing.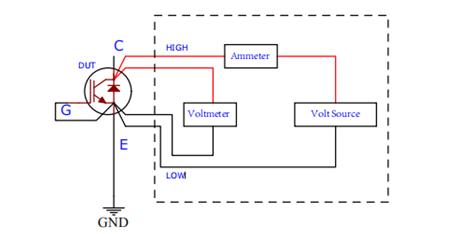 Testing Advantages
Adopting Precise self-developed high voltage source measure unit. Source and measurement integrated, single unit maximum voltage output of 3500V, constant voltage current limiting, no overshoot.
In high voltage testing, the rising and falling edges of the ms level reduce the thermal effect of the device. For example,in the testing of V(BR)DSS and Ices.